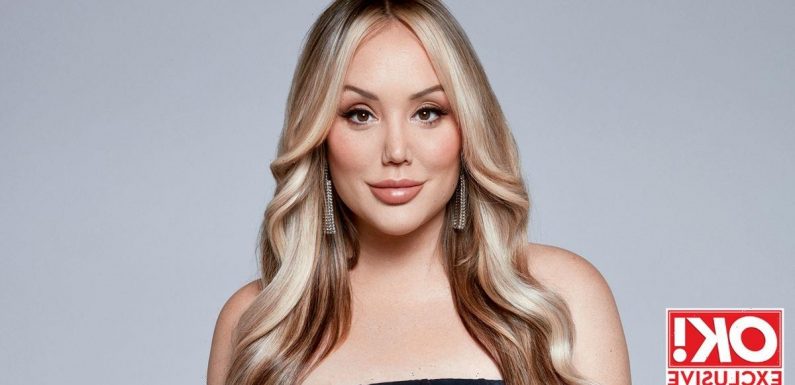 It's been nearly 12 years since Charlotte Crosby burst onto our screens as an OG cast member on Geordie Shore and life couldn't be more different for the star.
Famed for her outrageous, booze-fuelled behaviour, boyfriend bust-ups and friendship feuds, Charlotte now enjoys a quieter life as a mum to five-month-old Alba Jean, who she shares with her boyfriend, Jake Ankers.
While Charlotte, 32, describes her daughter as the best thing to ever happen to her, she admits she's lost confidence in herself since becoming a mum. In December, she even had her infamous lip fillers dissolved, saying they started to get "too ridiculous" after her post-pregnancy swelling made them look even more inflated.
She tells new, "I was a lot more confident when I had fillers. It's really noticeable, to the point where it affects me and I don't feel confident in front of the cameras. I don't like it. I'm struggling to come to terms with having smaller lips. Getting them dissolved is not worth how I feel. I feel self-conscious and it's not nice to feel like that."
And it's not just her lips that cause Charlotte's confidence issues. "I've just had a baby and I'm a stone and a half heavier, so I probably dissolved them at a really bad time. I feel bigger, so by shrinking my lips, it's made me feel like my face is even bigger.
"When you have a baby, your body changes and you have these battles with your image. It's an awful time. Dissolving my lips at that point was not a good idea, but I couldn't have walked around with them that big. It was a catch-22."
So is she already contemplating getting fillers injected again? "I've not thought about getting them back, it's something I'm trying to deal with," she says. "I'm just overdrawing them until I look like a ridiculous moron. I don't want to go back to how they looked at the end of my pregnancy because they were huge as I had a lot of water retention. But they were a nice size before that."
The new mum has just released her third autobiography, Me, Myself And Mini Me, which details her pregnancy and Alba Jean's "magical" birth. It also covers her romances from 2017 to meeting The One in Jake, her mum's devastating cancer diagnosis, plus losing her beloved Nana Jean last December.
Charlotte describes her daughter as "amazing", adding, "I always knew I'd have a girl – I think I'll have three girls in total, but I'd love to have as many as physically possible."
Her little one's personality is starting to develop, too. "She smiles a lot and she's hyperactive at times," says Charlotte. "But she's a brilliant sleeper. Since birth, she's only woken up once during the night and that was at 4am."
In her book, Charlotte talked about her ex-boyfriends, including Ex On The Beach stars Stephen Bear and Joshua Ritchie, as well as videographer Liam Beaumont. Charlotte laughs, "That was a long chapter."
Charlotte recalls the time her "narcissist" ex Stephen threatened to sue her over their joint business venture, His And Hers, which Charlotte claims she put all the money into.
Looking back at that stressful time, she tells new, "There was a bit of a divide in that relationship, so that was one of the reasons you could tell it wasn't the right one.
"I don't look back with much negativity. It was a crazy eight months – my God, it was a roller-coaster. It wasn't a great time. There was a lot of heartbreak, but it taught me a lot. I don't dwell on the past – everything that's happened has put me on the right path to who I am and how I'm living right now and finding the right person for me."
Charlotte first met boyfriend Jake at a New Year's Eve party in 2015, when he asked her for a photo. They went their separate ways until six years later, when Charlotte's best friend Lauren encouraged her to take a look at Jake's Instagram account because she thought he looked nice. Charlotte agreed and started liking his pictures – and before long, Jake asked if she wanted to meet up.
Charlotte reveals, "When I met Jake, I knew instantly he was for me. We had such an amazing time. Then we spent quite a lot of time together the next day. We got on well. From the second I left him, we didn't stop talking. When you know, you know.
"Me and Jake will be together for the rest of our lives – we're two little best friends. We spend every waking moment with each other and we have never had an argument."
Charlotte admits the two of them discussed wanting to be parents very early on in their relationship, saying, "It was lovely to be able to have a conversation with a partner about having a baby. I'd never had that before. In every other relationship, either the other person wasn't ready for a child or it was something that wasn't talked about."
Charlotte's pregnancy wasn't plain sailing and she experienced prenatal depression around week eight.
"It was a down feeling I've never experienced before," she recalls. "It wasn't just crying – that's hormonal. Being depressed is like totally going within yourself – you can't speak, let alone cry. It's a weird, strange feeling.
"I couldn't string a sentence together. My head was not into being around people, being chatty. Jake left one day because he felt like he didn't want to be around me."
Fortunately, after a week, Charlotte began to feel better. "I would have sought medical help if it had continued," she says.
Charlotte – who had a planned C-section at London's Portland Hospital – says, "My birth was so magical. I absolutely loved it."
Last September, Charlotte revealed in a podcast she was disappointed that Gaz, her on/off ex of five years, hadn't congratulated her on her pregnancy.
"It's not hard to congratulate someone," she says. "I congratulated him when he had his first child. I was really happy for him. I thought, 'A nice person would do the same.'"
Given the whirlwind nature of Charlotte and Jake's romance, we can't help wondering if a wedding proposal could be on the cards.
"You've got to ask Jake that, not me," she says. "All I know is when the time comes, it'll be amazing because he's so romantic."
And what about baby number two? "No, it's a bit too early at the moment," she says. "But I do want two by the age of 35."
READ MORE:
For all your daily celebrity news and gossip, sign up to OK!'s newsletter – CLICK HERE

Pregnant Gemma Atkinson brushes off recent mum-shaming as arrives to work beaming

Chloe Ferry 'goes to the dark side' with hair transformation

Every picture from inside Frogmore Cottage as Harry and Meghan served eviction notice

'Love Island's Olivia will have a rough ride, she'll lean on Maxwell but they won't last'
Source: Read Full Article